We get it – going through a separation can be an emotionally taxing experience. Naturally, it only makes sense that you would want as smooth a process as possible. Being thoroughly informed about your options can take some of the uncertainty away, as you can anticipate what to expect and the steps you may need to take.
When it comes to family separation agreements in Calgary, there are several aspects you will want to consider. Let's explore what they may entail, as well as how you can prepare an effective document.
Understanding Family Separation Agreements
What To Include in a Separation Agreement
A separation agreement is a legal contract between a couple that outlines how they have chosen to settle their issues. When referring to a couple, this can apply to partners who are either married, in a common-law relationship, or in an adult interdependent partnership.
As a note, you do not need a separation agreement to separate. However, clear communication and a written record of your decisions may prevent confusion down the road and help avoid potential court visits, which can be both expensive and time-consuming.
The Government of Canada recommends that a separation agreement include details such as:
Living arrangements;

How you'll divide property;

How you'll divide debts;

If spousal support will be paid;

Custody of children;

Parenting of children;

Child support payments.
When referring to property, it can include:
Joint or separate bank accounts;

Registered Retirement Savings Plans;

Tax-Free Savings Accounts;

Your home and its contents;

Second homes/recreational properties;

Investments ;

Canada Pension Plan ;

Employer-sponsored pensions;

Vehicles;

Pets;

Insurance plans.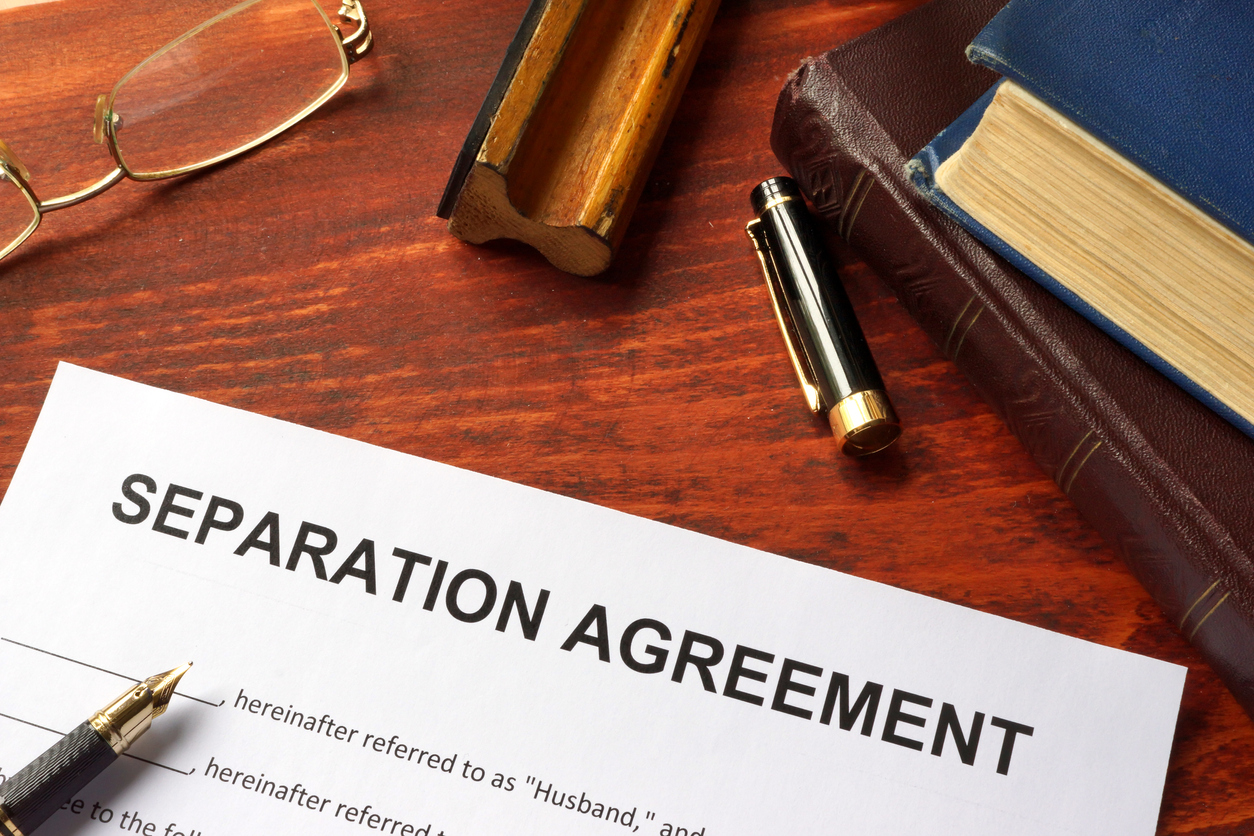 When referring to debts, this can include:
A mortgage;

A personal loan or line of credit;

Credit card debt;

Vehicle loans.
It is recommended that you work to divide your finances sooner rather than later. In some provinces, you may lose your claim to a share of the property if you wait too long to make your claim following your separation.
Who Can Prepare a Separation Agreement?
Separation agreements can be drafted on your own, provided you understand what schedules need to be attached to be effective.  In all cases, however, both partners will require a certificate of independent advice to ensure each fully understands what they are signing and the legal ramifications of it. Including legal representation in the process and having them prepare the agreement is recommended. Family lawyers have years of experience handling such situations, so they are better able to understand what considerations you should make and what details should be included in the agreement.
Reputable family lawyers are able to provide impartial guidance while also showing kindness and empathy during such a difficult time in your life. If you are ever in need of a separation agreement in Calgary, a good lawyer will help make the decision-making process easier and ensure you are satisfied with the outcome.
There is a brighter future ahead with McLean Legal Family Lawyers. As your dynamic, multi-service family law firm in Calgary, McLean Legal Family Lawyers can offer you personalized legal services tailored to your particular circumstances. We endeavour to resolve matters quickly and with minimal conflict, offering calm, professional, and realistic advice. Given our years of experience in family law, we can assist with your child support, spousal support, divorce, mediation and separation agreements, as well as civil litigation issues, commercial/corporate services, and real estate transactions. With over 30 years of experience and success, we're the Calgary family lawyers that offer you a brighter future. Book your free consultation by calling 587-353-2632.